A pause in the drive, and a request
Friends, 
The leaves are turning, the light is softening, the air is growing crisper. Construction workers are building a deck for my next-door neighbor's house; saws and drills drone endlessly through the morning. Every evening, a blue jay screeches from a tree on my street. Most afternoons, a jazz band performs from a neighbor's driveway. This is my white noise, these sounds of the suburbs.
Where am I? (That's a question I get a lot!) I'm in Boston. You may recall in my last email I'd mentioned searching for a spot on the border. That was then, this is now. Circumstances change. For much of this year — this exhausting, lonely, unpredictable, and, in spite of everything, often delightful year — I've found myself craving the familiar. That's why I spent much of the summer driving around the country, visiting friends. It was nice to not have to introduce myself. It was even nicer to share time together: meals and walks and conversations and drives. 
Before coming to Boston, I was living in a tent in someone's backyard in Asheville, North Carolina (long story). I ditched that life for Somerville, Massachusetts, which in college was the neighborhood I always visited if I wanted to clear my head and get away from campus for a few hours. It's great to be here — with friends, in a place I already know well. 
I wanted to send a brief email in lieu of a normal newsletter 'about the natural world' because I'm seeking collaboration. In July, I published an essay about how reporting on someone else's grief — namely, a mother's — helped me understand my own grief over my friend Haley, who drowned in Germany six years ago. I'd been wanting to write a version of that story for years, and the reporting experience — the beautiful two-way conversation I had with Elke, the mother — is something I'm keen on replicating. 
I'm working on writing about loss that interweaves my own experiences with others'. I'm hoping to speak with others to learn how they've processed and held onto grief over a long period of time. Loss can mean a lot of things: loss via death; a lost job; loss of language; a break-up; a move to a new place; loss of an ecosystem; loss of a lifestyle; and so on. I'm aiming to speak with people I already know — and people with whom I've had fleeting interactions or relationships over the past few years. By learning others' stories, and sharing with those people my own stories, I'm hoping to inhabit a space of intersection. I want to write about how, in meeting people, we are becoming a part of their history, and they a part of our's. 
It sounds a little cheesy, I know. Working on the elevator pitch. Anyway, my request to you, readers, is this: If you're interested in participating in this writing, please please send me an email. I would love to share a conversation (likely, multiple) with you. Many of you have been reading my sporadic emails for three years (!), and the conversation is often one-directional. I'd like to change that. I have thoughts about authorship, anonymity, and other logistical aspects of this writing as well, so we can discuss those in detail later. 
That's it! Email me if you want to chat. It'd be a real honor. Meanwhile, I leave you with an assortment of photos I've taken over the past few months on my long road trip around the U.S. 
love,
Meg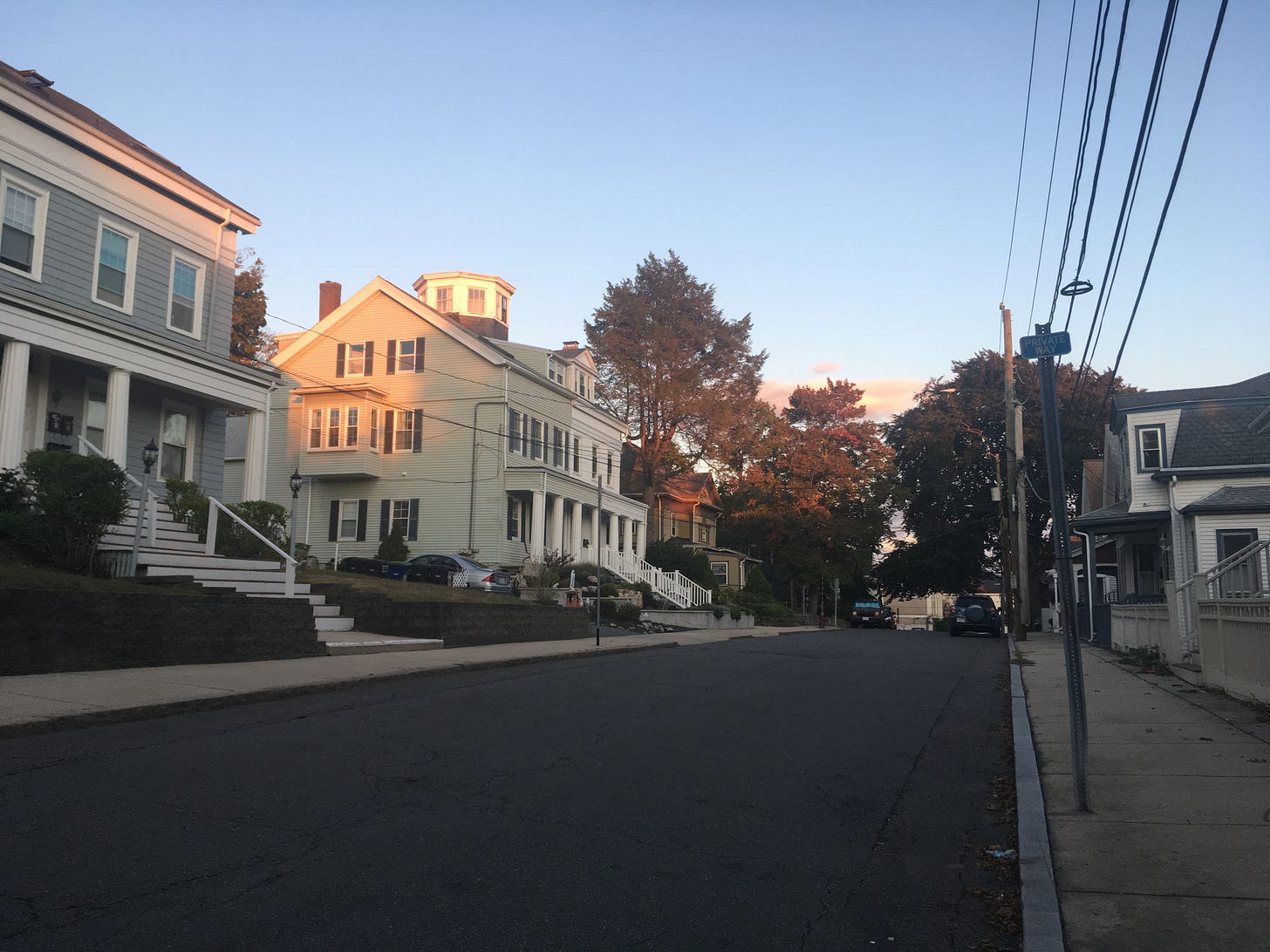 I love this time of day, when the sun sets directly on a house face. Somerville, Mass.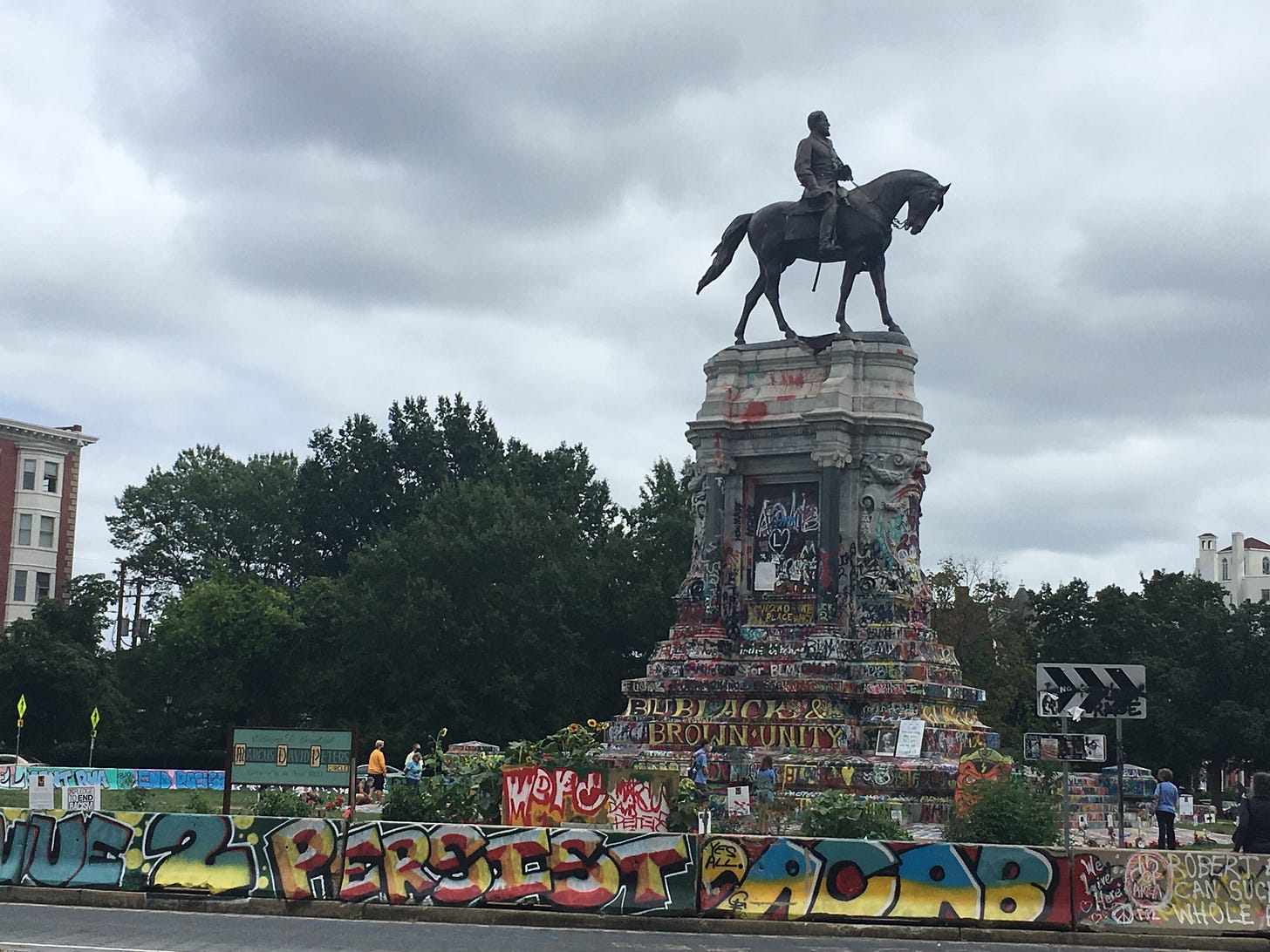 The Robert E. Lee statue in Richmond, VA. (Sorry it's crooked.) It's the last statue standing on Monument Avenue; others were removed in the wake of BLM protests.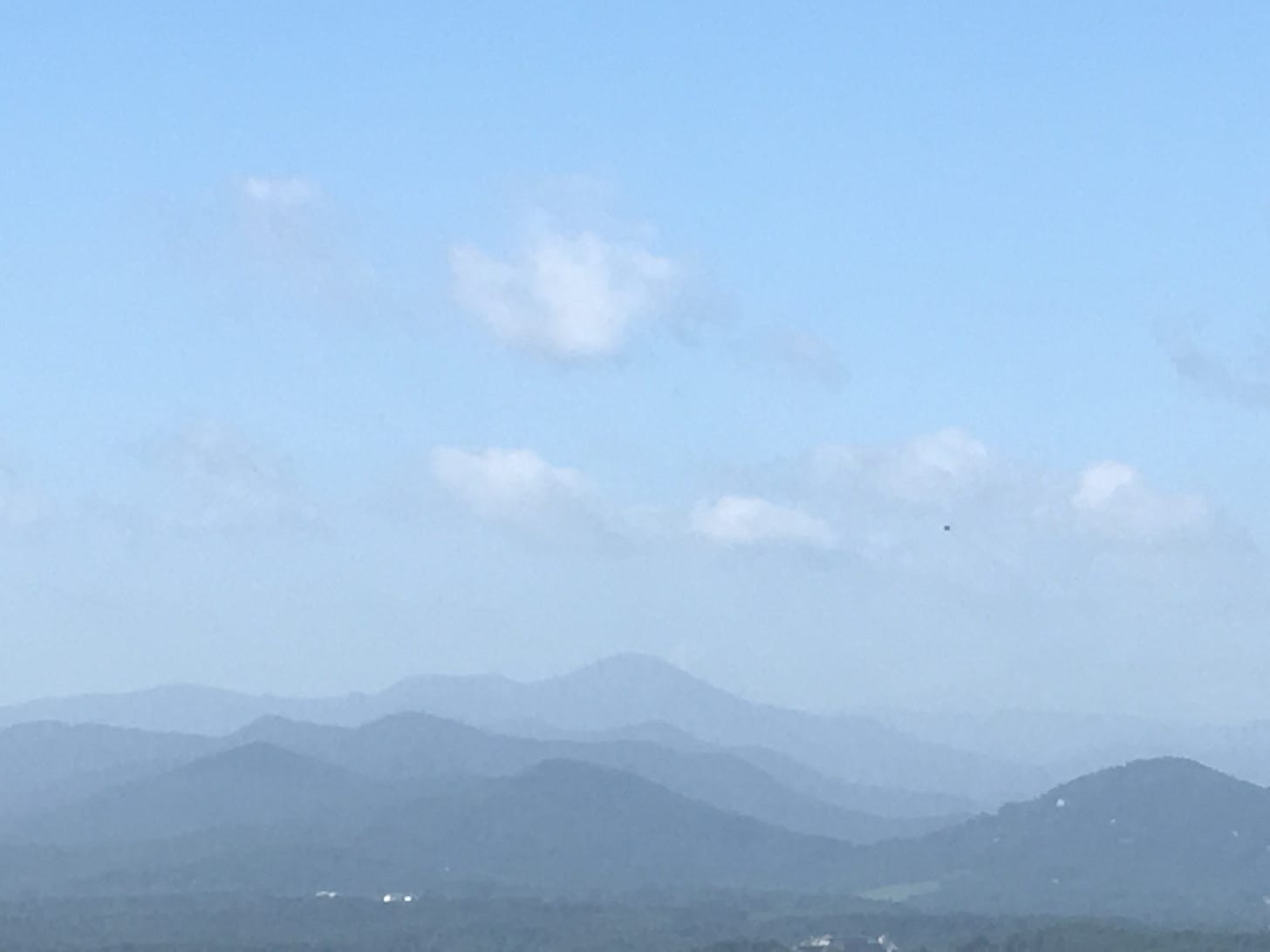 Terrible photo of the Blue Ridge in Asheville, but here you have it: blue ridges. (remember, isoprene!)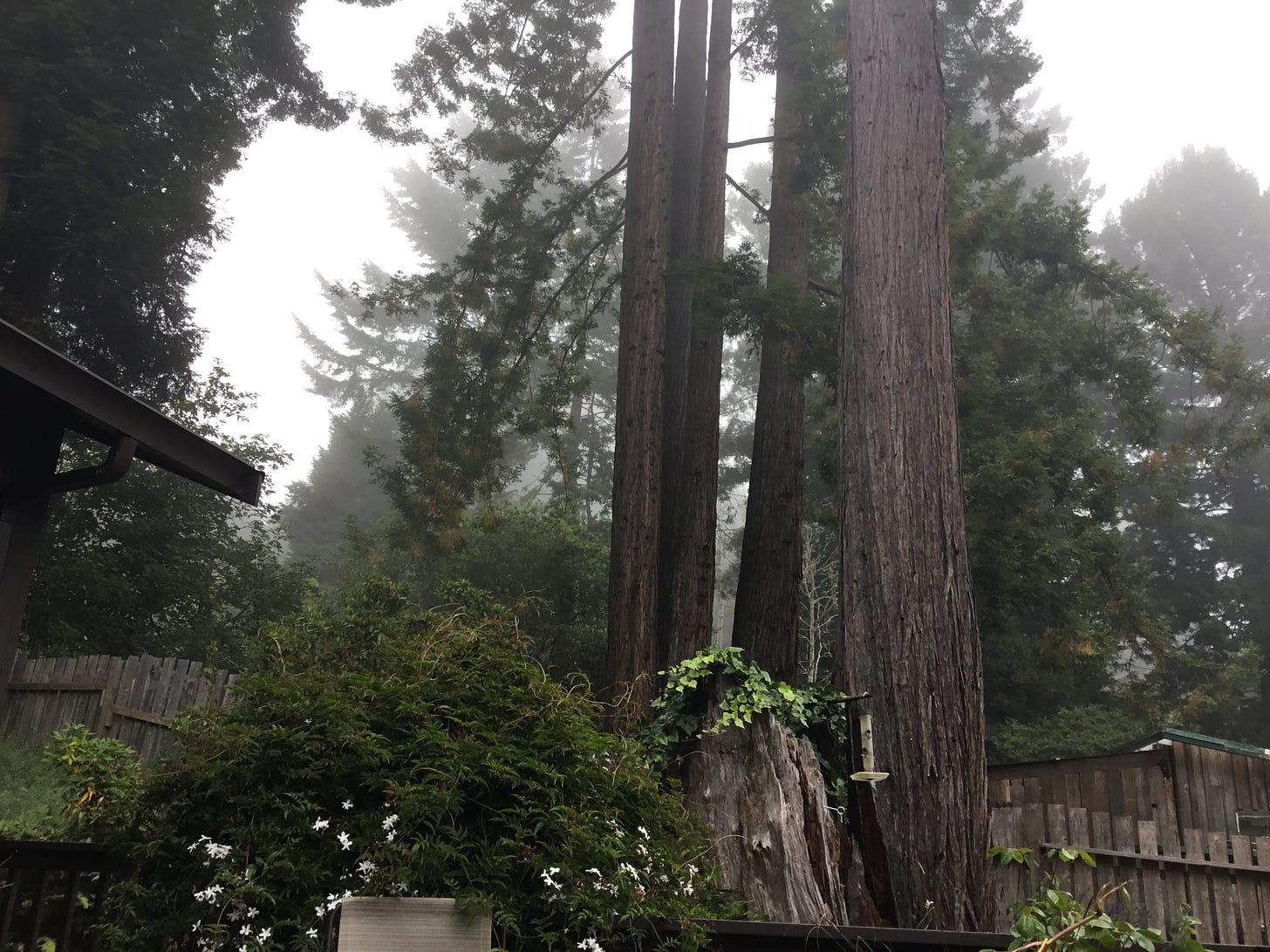 Redwoods at my friend's house in Arcata, CA. He loves the trees for the obvious reasons, but also because you can't ever get a great, full photo of them. The camera cannot capture the redwood. how poetic ~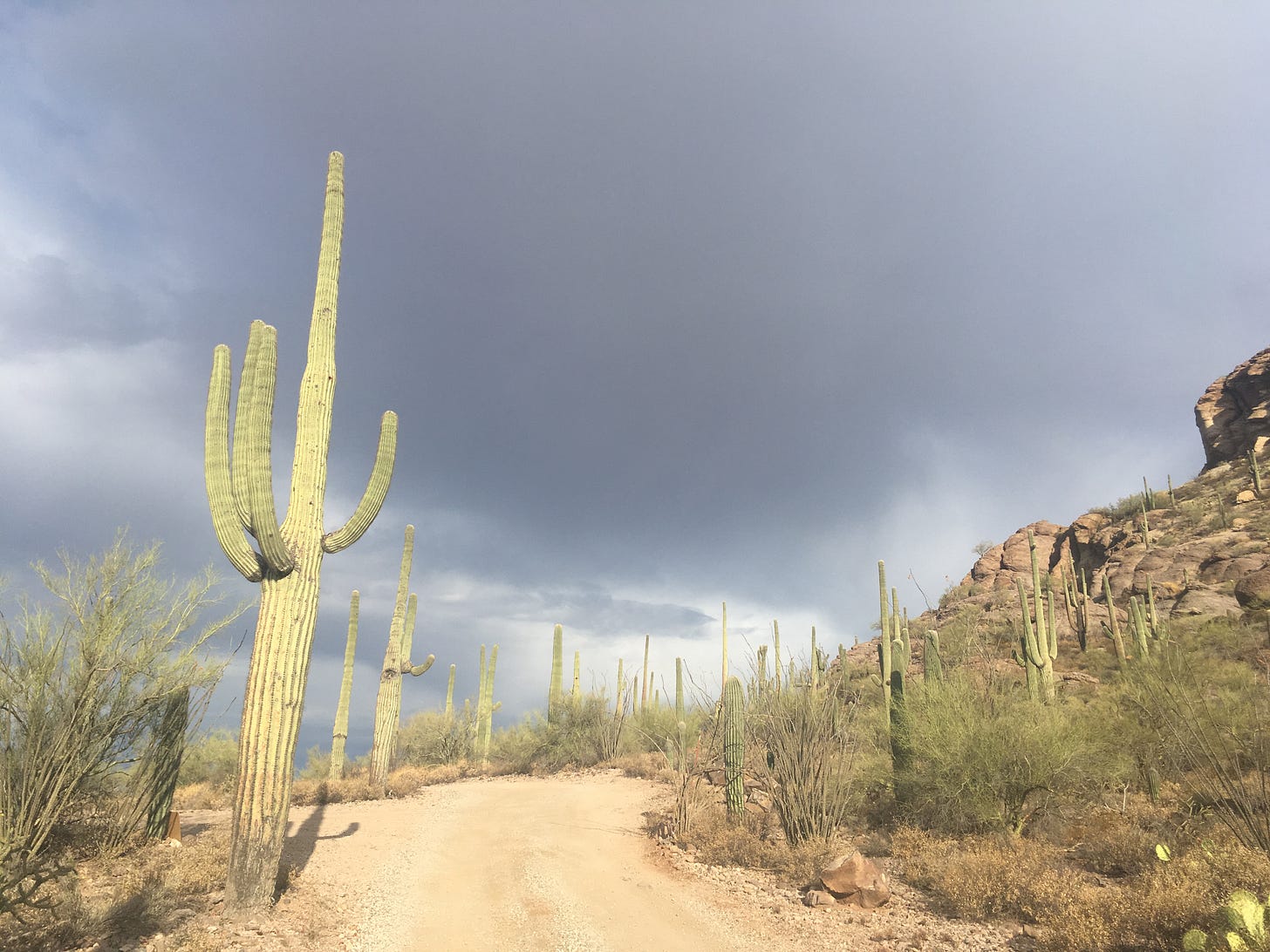 Saguaros in Tucson. Like the redwoods, unbelievably majestic!
Texas, probably. I do miss long drives. Here's to many more.