Back in the U.S.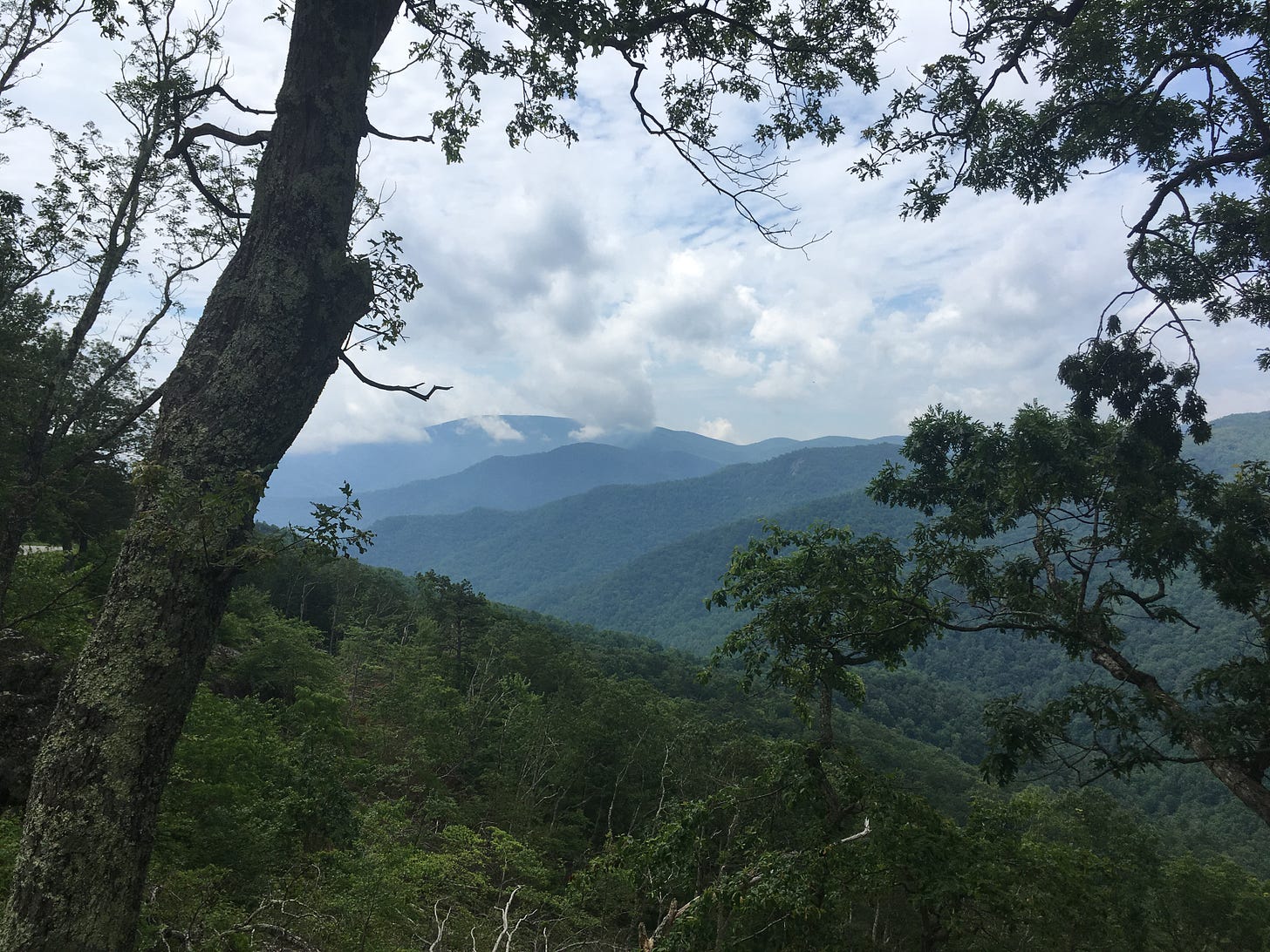 (Old readers, welcome! When I was in Europe, I wrote the 'sobremesa' newsletter. Now that my circumstances have changed, I decided to change up the writing, too. Read more below.) 
A few weeks ago, I started driving in brown. The sky was brown, the interstate brown, the desert brown. Brown was the dust sprayed on my windshield as I drove north on the I-15 toward Nevada, as I stared into a brown horizon. 
A lifetime ago, when my mother moved to southern California, she thought the brown was ugly. People move here for the weather, she would say, not the scenery. The crowded freeways and light pollution dirtied the sky; the heat and lack of precipitation dried the earth. Unlike Virginia, where my mother had spent a good part of her life, southern California is not lush. It is a place of negation. No rain. No seasons. 
Because my mother moved for the weather all those years ago, I was born and raised in a parched corner of the state called the Inland Empire. My childhood was a long drought. We kept our showers short. We patted our bodies down with sponges and stood in front of fans. We let our grass die.
When I left home, I left looking for green. 
I left on a Sunday. By Tuesday, I was sitting in a mechanic's office, drinking bitter coffee from a styrofoam cup and reading about the year's soybean yield. The night before, I'd driven through the tail of a summer storm and the rain had lashed all around my car. Somewhere on the interstate, I'd hit a pothole, flattening the tire. 
On the way to the mechanic's office, I asked the towing man if he'd ever moved from this pea-sized Nebraska town. No ma'am, he said to me. I have everything I need here. 
On the drive back to the interstate, tire inflated, I ribboned through cornfields, the green stalks fluttering in the midmorning breeze. I parked my car on the side of the road to watch the shallow green sea rise and fall.
*** 
I've been in the United States for more than two months. It's the longest I've been here since I moved to Spain in the fall of 2017. I hadn't planned to move back from Brussels, where I was living until mid-April, but as the pandemic spread across the world, and as my visa's expiration date loomed ever closer, home seemed like the best place to be. 
Two months at home in southern California came and went. I spent time with my family, wrote some stories, bought a car. Two weeks ago, I started driving across the country. I'm searching for a new place to live. 
I started driving because I wanted to feel the size of the United States. I wanted to see how its geography changed across time zones, how the flatland of Wyoming compared to the plains of Iowa and the mountains in West Virginia. Since I set off, I've seen so much of this country I never knew. Lake Michigan. Appalachia. The Blue Ridge Mountains. 
Words feel insufficient to describe the landscape. Somewhere in West Virginia, my part-time travel companion and I pulled over to look at the view. Clouds in the foreground were dark; clouds on the horizon were bright. Shades of light green threaded through bruise-colored mountains. A wild slope fell away into the valley. We stood for a few minutes with our backs to the road, not speaking. 
This scene repeated several times along my journey. Before I met my driving partner on the eastern shore of Lake Michigan, I steered to the beach. The water was glassy and looked like the sea. It stretched far beyond my vision. As I stared at the water, some ancient feeling thrummed in my throat, that feeling of feeling small in the face of something vast.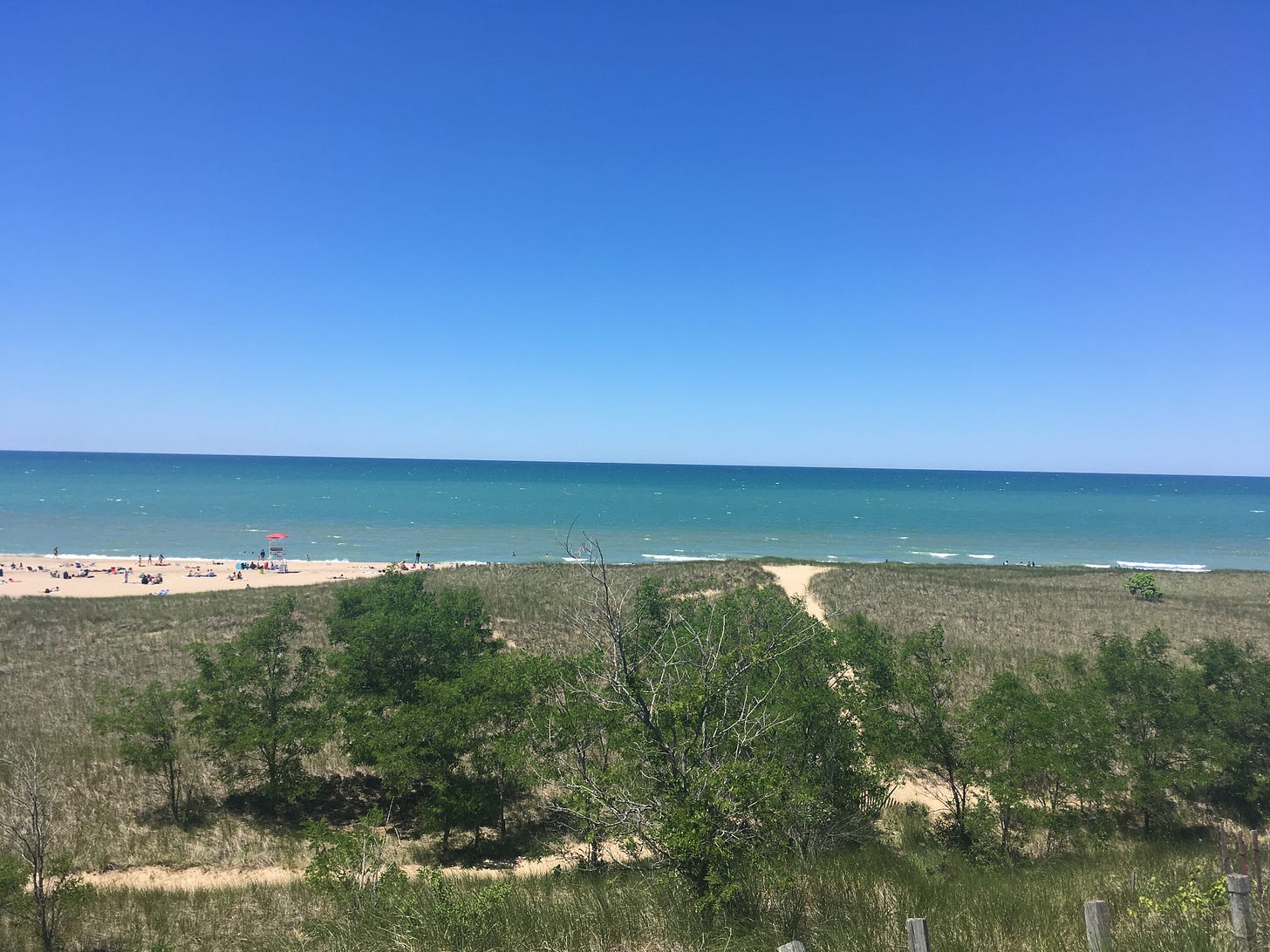 Another: Driving along the Blue Ridge Parkway with the window down, we watched the forest spread out on either side of us in a haze of blue. Trees emit the chemical compound isoprene to protect their leaves against temperature fluctuation, I read as we drove. Upon interaction with the air, the compound creates what we perceive as blue. 
Another: One evening in the Hudson Valley, friends took me to see fireflies. We watched them from behind a low thicket of cattails. One friend directed my gaze to the trees. White-orange sparked in the treetops. "I've only seen them fly so high here in New York," she said, and we watched the blinking lights until we grew sleepy and walked back to the house. 
Thinking of these experiences, I am reminded of a painting I studied during college, Frederic Edwin Church's Heart of the Andes. In 1859, thousands of New Yorkers flocked to a studio in Manhattan to see it. The viewers were ushered into a dark room and were then met with a verdant landscape painted onto a five-by-ten-foot canvas. Snow-capped mountains rise from dark clouds and give way to a green plain. A glistening waterfall cascades into a blue pool. "The effect on the spectators is immediate," writes anthropologist Deborah Poole of the exhibition. "When confronted with its immensity, the crowd becomes hushed. Women feel faint. Both men and women succumb to the dizzying combination of terror and vertigo that they recognize as the sublime." 
Since graduating college, I've found myself drawn to writing about the natural world. Reporting for The Los Angeles Times' metro desk in the summer of 2017, I traveled to central California to write about wildfires and rivers. In Spain, I wrote about my months living on vineyards in the foothills of the Pyrenees and in the plains of Castilla-La Mancha. During quarantine in Brussels, I spent long days walking beyond the city limits and into the countryside. Journaling about my daily walks and the blooming city sustained me as I saw freelance budgets slashed and paid writing opportunities dwindle.
I haven't written much professionally about the environment. But in unpublished personal writing and correspondences with friends, I always return to the natural world. Over the past few weeks, as I've spent time in this country's many landscapes and read work by Mary Oliver, Edward Abbey, Annie Dillard, and Rachel Carson, I've begun to realize why. Being outdoors gives me energy in a way that nothing else can. It's the force that sustains me as I stumble around the world, trying to find where and how I should be. I walk outside when I am upset, when I need to clear my head, when I am stuck on what to write.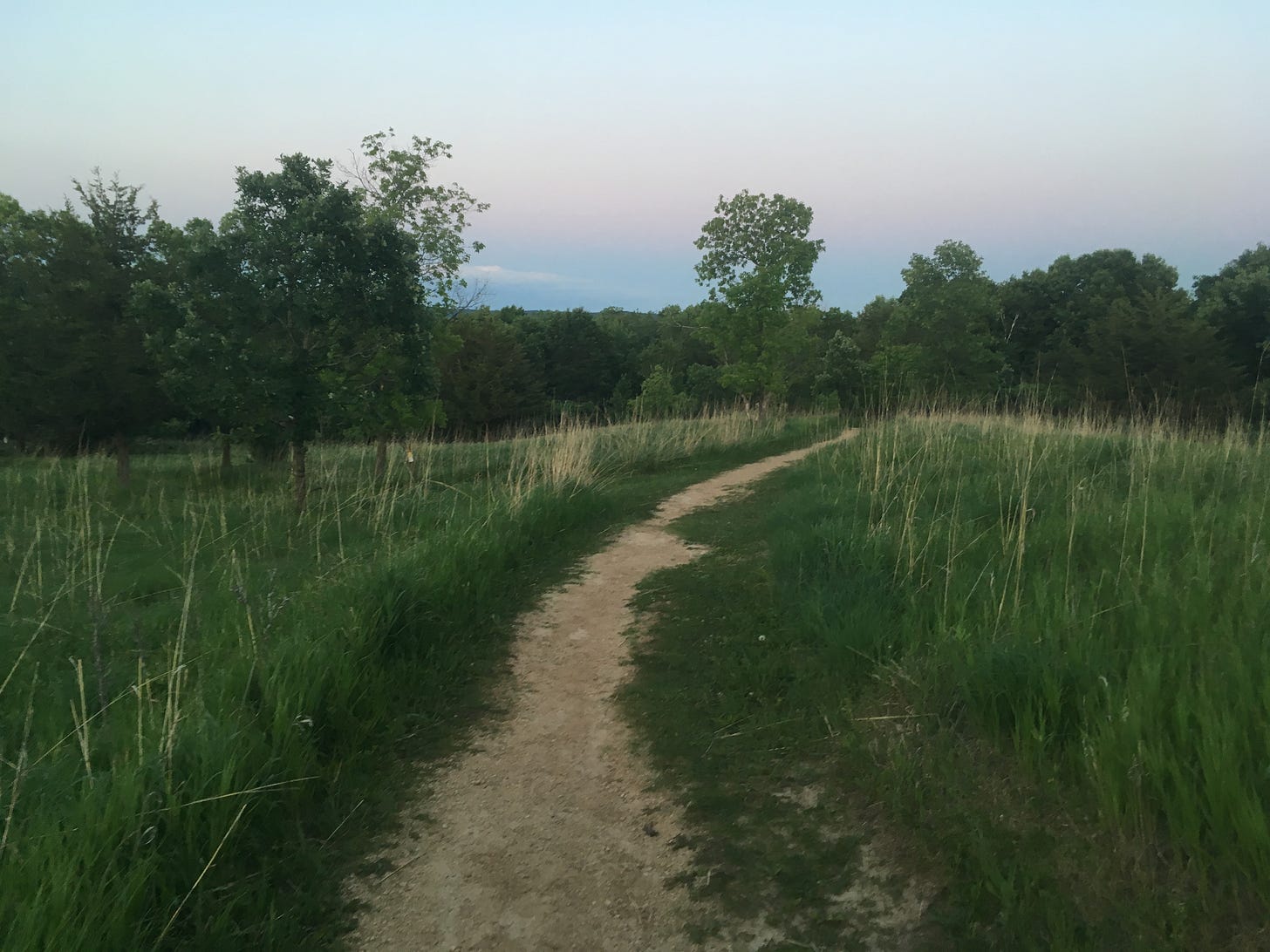 As I settle back into life in the United States, I hope to focus my attention on the environment and the landscapes around me. This writing, Above Ground, will help me do that. In the weeks ahead, I'll write to you about bees, Joshua trees, and (maybe) mines in West Virginia. These are some of the topics I've been thinking about since I've returned; as I continue this indefinite road trip, I'll have many more. 
Several months ago I acquired a Canon AE-1 Program camera and have since taken many photos with it. Once I get the film developed, I'll start adding those to the emails, too. For now, please forgive my low quality iPhone shots.
If any of you have thoughts on where I should live next, please send me an email! I plan to work from some borderland, maybe McAllen or El Paso or Tucson, to write about the border and the environment and continue using Spanish. It's almost like foreign correspondence. 
I'll end with a half quote from Mary Oliver paraphrasing Ralph Waldo Emerson on how people should live in the world. 
Humans should "want to be subsumed, whirled, to know [themselves] as dust in the fingers of the wind." 
In my current context, I'm taking this to mean I should hold onto the feeling that I am a very small person in a very big country. 
***
My next email will discuss a conversation I had with a biologist in southern California on native bee populations and America's longstanding cultural conception of how people should experience nature (ie, alone). 
In the meantime, here are some things I'm reading and listening to, loosely related to the natural world: 
Reading
Finding My Climate-Conscious Tribe: Black Nature Lovers and Writers by Kim-Marie Walker in Lit Hub. The American nature writing canon is overwhelmingly white. Here's a great resource on the rich literary work of Black nature writers. A friend is reading the The Cooking Gene and recommends it; that's next on my list to read! 
And the Band Played On: Politics, People, and the AIDS Epidemic, by Randy Shilts. Not environment writing, but very relevant to Covid-19. Shilts was a San Francisco Chronicle reporter and one of the early chroniclers of the AIDS epidemic. This contemporaneous account (pub. 1987) examines the failures of the federal government, local politicians, the news media, the scientific community, and many gay leaders to respond to the public health crisis. 
Upstream, by Mary Oliver. A collection of essays by the late poet on her relationship with nature and writing. I accidentally stole this book from friends in Ann Arbor — I took their copy one morning to read in the woods and kept it in my backpack as I moved eastward. Really, a mistake! I will mail it back once I'm done. 
Bluets, by Maggie Nelson. Also not really about the environment, but I return to it every once in a while because I love it dearly. Most recently, I started reading from the book as my friend and I drove the Blue Ridge Parkway. Bluets is a long prose poem composed of 240 reflections on the color blue and all it means to Nelson — desire, pain, loneliness. The first line is one of my favorites in literature. 'Suppose I were to begin by saying that I had fallen in love with a color.' 
Listening
On Being, hosted by Krista Tippett. I am two decades late to this, but better late than never. Recommended by a friend, this is the most spiritually satisfying series of conversations I've heard in a long time. Tippett interviews writers, poets, scientists, and theologians on what it means to be alive. I loved the Gregory Orr episode "Shaping Grief with Language." 
John Prine (RIP) and Mandolin Orange, two great road trip musical acts. Songs on repeat are Clay Pigeons by John Prine (recently learned this was a cover! Originally sung by Blaze Foley) and Wildfire by Mandolin Orange — listened to this one while winding through West Virginia, where confederate flags were aplenty. If you listen, you will see that the setting was apt. 
Be well, friends, and talk soon. 
Meg